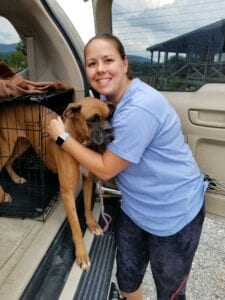 Rockin' "P" Rescue, Inc. is run entirely by volunteers and relies on them and donations to continue our rescue work. We are dedicated to the rescue of unwanted, neglected and abandoned dogs. We take in dogs from owner surrenders (due to relocation, divorce, illness, and death), some come from shelters, and some are strays.
Owner surrenders means that for some reason the current owners are unable or unwilling to keep their pets and turn them over to rescue. Sometimes it is because of divorce – both people are moving into apartments and neither can keep their dog. Sometimes people move to another area or another home and either can't or won't keep their pets. Sadly, some are surrendered due to the owner's death. Many are rescued from various shelters, humane societies and all breed rescues. Occasionally we are contactedto pick up a dog that has been found as a stray. Dogs come to us for a wide variety of reasons and from many different sources.
We rarely get puppies in rescue. The vast majority of dogs that come into rescue are over one year old – some are even senior citizens! The advantages to adopting an adolescent or older dogs are many; often a slightly older dog is already housebroken, is past the "eating the furniture" stage, has calmed down (as much as a dog ever calms down!) and is generally easier to adapt to a new home. Adopting a senior dog is also a rewarding experience! They are usually well trained and are what I like to call "love-sponges", meaning that they are very receptive to any and all affection that is offered to them. It is almost as though they know that you've made an extra commitment in adopting an older dog, so they want to shower you with love for their remaining years!
Our Adoption Application is available on the website. The application must be filled out in its entirety. The application will then be reviewed, references checked, and a home visit scheduled. If the application is approved, the process will begin to match a suitable dog to the adoptive family and an appointment will be set to meet dog(s) that would be right for their family
.
Our goal is to place the right dog in the right "forever" home. Sometimes we don't have exactly the right dog available for the adoptive family, so the adoption process can take some time. If we rush to place a dog and it doesn't fit into the family, we've made a mistake. We'd rather take a little additional time and do things correctly the first time rather than take the same dog back into rescue and start the process all over again. If you have specific requirements as to color, ear type, etc., it will take longer to find you dog.
Currently our adoption contributions are as follows:
$300.00 for a dog aged 10 weeks to 6 months
$250.00 for a dog aged 6 months to 1 year
$225.00 for a dog over one year
The contribution covers the various expenses incurred in rescuing dogs. When we bring a dog into our program it is taken to a veterinarian and given a complete examination, heartworm test (and treated if necessary) and vaccinated as needed. If the dog has not been altered, it is spayed or neutered prior to adoption. We do everything possible to ensure that you will adopt a healthy dog. If there are ongoing medical conditions, we will inform you prior to the adoption and will be available for consults to assist you in caring for your dog.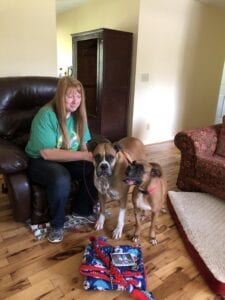 We do our best to place our dogs in "forever homes" but when you adopt a dog from us you sign a contract that REQUIRES you return the dog to us, it cannot be sold or given away.
**Please click the following links for more details on the services provided to our dogs and to the medical needs we meet.